Hye readers. Bonjour. Yes yes yes totally yes exam is overrrr. After 3 weeks facing the books and get clingy with them at lastttt I manage to enter the world of net. Bhaha. Sounds odd whatever. Okay so is it too late for me to update about my PK 2 results? I got D for BM, C for Prinsip Akaun, A- for Biology, B+ for Physics and Chemistry, A for Addmath and Agama and A+ for Math Mode and Sivik. This is the worst result I ever had == Okay whatever. It's PK2 result
So what I want to blog today issss aboutttt Teacher's Day. Last week after answering the PSK which was soooo " ----------- is this PSK?????!!! Why it's damn hard" == we celebrated Teacher's Day. I bought a bread and rushing to the hall. After waiting for an hour the teachers entered the hall and everybody was like "haaa" and "waaaa" screaming without control. It's normal, I used to it LOL xD
So yeah this year got something extra. Not ordinary like the previous years. This year got calon for the versatile teacher, sporting teacher and yeah got a short clip like ABPBH. It's fun you knowwww. The first award is for Guru Paling Ber ----- I kinda forgotten what its name. It's like the most handsome and prettiest teacher. Something like that. And the winner is ---------------- drumrollll### Encik Hidayat and I was like "== Cikgu Dayat?" and for the female is Cikgu Hazlinda. She is so prettyyy and cute and like a model. Hoho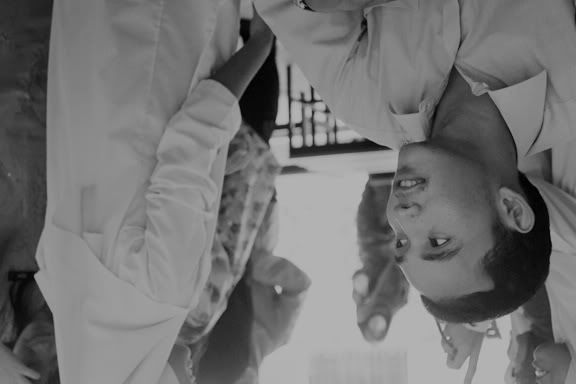 And this is one of the calon. Saja rotate biar kepala Raja senget LOL
This one also. I snap this as one of my friends asked to.
And yes after that got performance. From Najwa Latiff, Miss Syamira ( idk how to spell her name), En Dayat and En Hafiz like usual. They played the guitar. And yes forgot to mention, Shin Rui and Wen Qing played the violin Canon in D. And there's a party of students sing Indo song.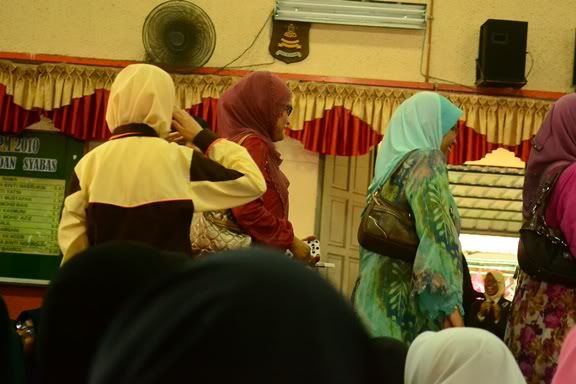 And this is the moment when the teachers entering the hall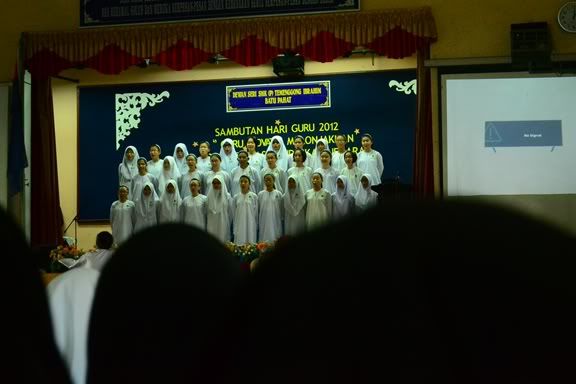 Choral Speaking. "No time management".
There were some games. It's like suap-suap cupcake. Idk what game is it. HAHA. Anyway it's fun
HAPPY TEACHER'S DAY TO ALL TIGS' TEACHERS
MAY ALLAH BLESS ALL OF YOU
I'll continue blogging as the line is so slow.