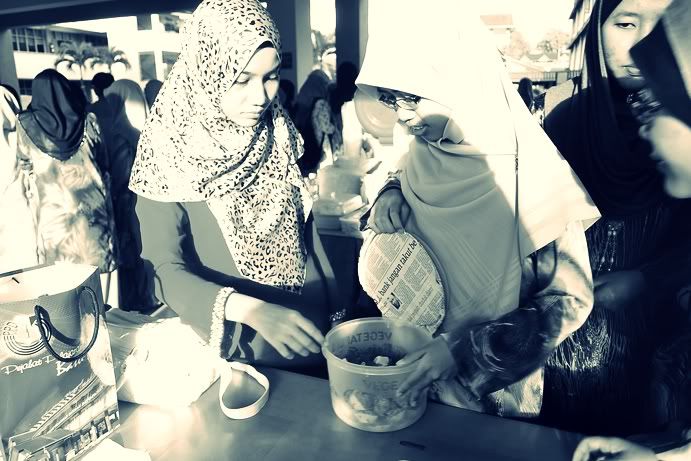 Me with syiera. She's my classmate
Tadi ada sambutan Raya woot woot. Pakai baju merah coz baju lain dah pernah pakai, I only have a few Baju Kurung, yang banyaknya yang last year ( masa form 1 and form 2 dah pakai takkan nak pakai lagi LOL ). Red yeah same as Ardilla. When I reached school ada yang pandang macam nak makan kasut saya, mungkin kejakunan disebabkan "ehh bukan tak boleh ke pakai high heels?", whatever I don't have flat shoes or any sandals seriously, takkan la I nak pergi sekolah with my bare feets. Nasib baik pakai high heels, tak pakai half sneaker-wedges tu LOL. Anyway, many things happened but I lazy to blog. I just brought a choc cake and sponge cake.
Saya tukar style tudung tiga kali. Same goes with my sister. First tu my friend said macam ustazah sangat so Ardilla help me to lilit bagi stylo sikit. But then macam weirdo (ramai yang tengokj tak suka tak suka tahu la aku pelik dowh == ) sebab tak cukup pin so change to simple ustazah again.
Oh yes, masa nak makan tu en, ada Form 3 students yang bengang pasal kita amek tempat diorang. LOLOLOL. And after that snap pictures with teachers. Cikgu Zabha, Cikgu Apiz and Cikgu Yazid andd entah forgot already. Raja, upload tau gambar-gambar semua tu. Thanks
And ramai yang request nak ambil gambar sampaikan ramaikawan I cakap I artis gitu #perghbajetgilakauperasanbajethotwoh. I know the reason diorang amek gambar dengan I, it's because of Firdaus Mazlan yang tak handsome lagi bajet hot tu kan. Bhaha. Oh ya tapi kan muka saya berminyak gila hari ni. Tak suka tahu #gedikseyhgedikseyh. Ok byebye
P/S: Raja, Ardilla, you can view your pictures on my photobucket. I just edited my photo ( brightness ) LOL Muka original aku dalam gambar hodoh