These are my dream

semi shoe-wedges

! Oh man, I really want it for Raya. These are all Korean Wedges. I really want it, they are so pretty. I know they are quite

expensive

. RM150 maybe. The normal range price is about RM70 rite for wedges. But I'm really sure there's discount, Raya promotion. I don't want wedges that quite similar with my last year, I want a new wedges. Like the above picture. The white style one. But I'll choose

black

for sure. P/S: B, kalau jumpa tolong belikan eh. HAHA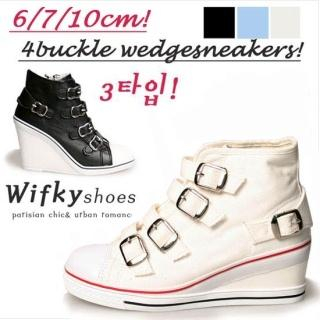 Wifky shoes. Very

urban

style. I hope that my father will allow me to buy that kind of wedges.

Wifky shoes,

I don't find it at any shop. I just find it online. So yeah, I can't wait for Raya shopping.