"Hey I'm the student for AF9"
Yeah lying, that is my pictures okeh.

Akademi Fantasia

or we used to call it AF will start within this week. I don't know when AF will start. Today I will blog about this

reality show

. I have watched this show since 2002, when I was in standard two. It has been a long time rite. Yeah from the first season till now. But the season that I like the most is AF 7. Under Tiara Jaquelina. Well I don't know how to spell her name. Then, AF2 is not so bad. AF8, I don't like AF8 because the students don't have any

package

. I will summing up my favorite student for each season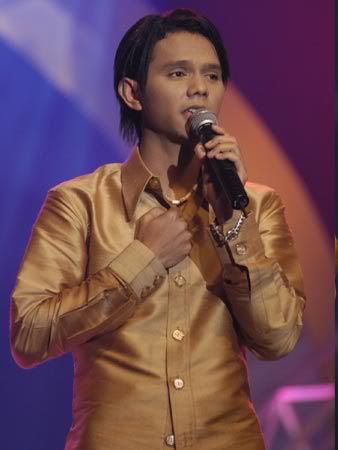 AF 1 : Khai


I don't know why I like him HAHA xD But now, I just "erghh Khai? xD" I've met him before, I met him in Langkawi when I was in standard four. And yeah when I went to Pulau Dayang Bunting, he asked me whether I'm tired or not xD At that moment, I went for a trip with artists. Great experiences.


AF2 : Adam


Adam aka 'Bandangan'. He always wore that stuff, I don't know why. Maybe he wanted to have his own style. Who knows rite. I like him because of his eyes and his dance. He loves to tie his hair == and he liked to play with mirror


AF3 : Felix


Well, at this moment ( 2005 ), Mawi's phenomena. I really hate Mawi duhh. I don't know why people idolized him. But now I thank God for not letting Felix to become the winner. I don't know where he is now


AF4 : Amirul


Mirrruuulll. My friends liked to give me a "booooo" as I liked Amirul. I don't know what's wrong with him till majority hated him. I liked him because of his dance and his face. HAHA :D And my mum was like "alahai comelnya budak ni. Ni budak ke apa" LOL xD And my sister was so obsessed with him





AF5: Dafi


Dafi Baekk Punyaaa. And yes, Ogy and Hattan really hated him. I liked him because of his "English" and he is so humble. Berbudi bahasa ; ) And I was like "Macam ni la didikan anak orang kaya sepatutnya. Budi bahasa"





AF6: Riz


I love his voice! When he performed, he'll look at the camera and that's the climax


AF7 : Akim


HAHA :D Well, I like him. His attitude, he's not matured enough and that makes me felt like "awesome". My first impression about him is "I don't think he can be the finalist", his package was "hancurrr" but then after two weeks; "thumbs up!". When I listened to his singing I said "sedap la suara dia. Lain. Husky" and after two weeks, I started to vote him till final



AF8

: I don't like anyone. Seriously

But now, I don't like them. Artists are not my inspiration. It's just for fun. But yeah, support our artists. I don't like certain Malaysian artists. Major I guess.